Tamás GALAMBOS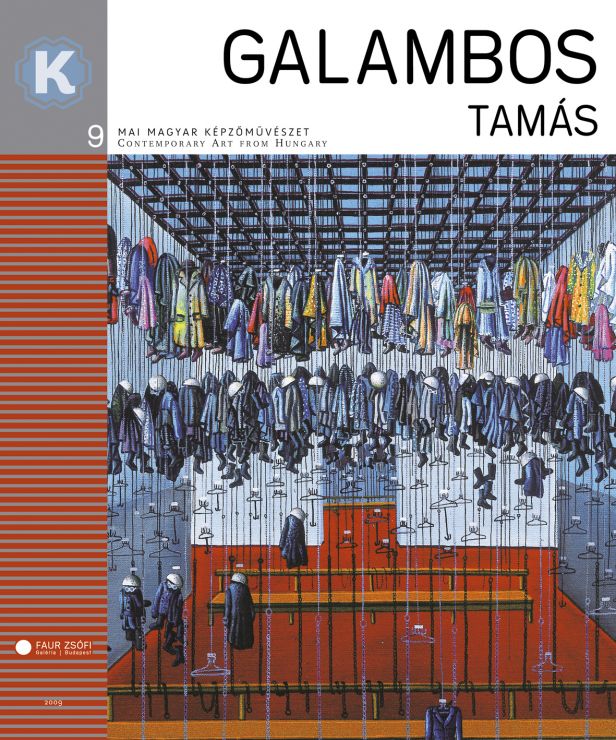 Tamás GALAMBOS
Contemporary Art from Hungary 9.
2009-12-10
JARRED ILLUSIONS
The Art of Tamás Galambos

"The relieved joy radiating from the artistic work of this young painter could develop into something great in the future. There is no way to foresee the future career of Tamás Galambos, but it is quite probable that after a certain time his playful naivety and primitive stylisation will mature into a highly remarkable explanatory style." This was the prophesy made by Géza Perneczky, art historian, in 1968 at the artist's exhibition in Pécs – and it was fulfilled, yet partially. /1. Namely, the playful naivety and primitive stylisation remained a defining feature of the artist's works, and it was through these features that the paintings became mature. They have created an individual style that identifies the oeuvre of Galambos.

Looking back upon the artistic works of Tamás Galambos from the 1960s, one could pinpoint that his paintings are surprisingly homogeneous. There are no significant shifts or sharp turns in his oeuvre. In the past decades, the art of Tamás Galambos produced great examples of figurative painting, traditional expression in painting, and natural or realistic depiction; therefore, the significance of his oeuvre is still undeniable. Artists, who neither belong to any dominating trend in figurative painting, nor to a specific generation or group, are likely to become highly isolated, and create a non-definable but highly precious oeuvre of their own. This is absolutely the case with the Galambos-oeuvre, which spans four and a half decades. One could read long articles on the merits and peculiarities of his paintings, he has had national and international exhibitions with praising criticism every second or third year since 1964, however, comprehensive art historian essays fail to give him due attention.

In the Galambos paintings various stylistic characteristics mix at the same time, and yet the messages conveyed appear brilliantly in such a mingled atmosphere. Besides Géza Perneczky, the poet István Lakatos, the art historians János Tölgyesi, Ferenc Bodri and Pál Szuromi have also drawn the attention to these peculiar phenomena. At certain times the formal elements of iconography, surrealism, pop art and naïve approach create biblical, mythological or historical motives; at other times they represent theme-variations alluding to present actualities. Nevertheless, these manifold images do not become incomprehensible or meaningless: all the elements are united by wry irony, a grotesque approach, painful humour and a playful worldview. In 1968 János Tölgyesi stated the following about the painter and his images:
"Tamás Galambos freely draws from the colourful, sometimes sombre, sometimes happy, and extraordinarily surrealist world of tales and myths, from this highly rich realm of endless human imagination. The viewer is confronted with the biblical Fall, legends of the prophets of the Old Testament, elements of Assyrian and Babylon myths, scenes from Greek heroic poems, figures of Medieval Byzantine saints, knights, kings, the prodigal son, the magic stag and the magical peacock, strange spinsters and bearded popes. In his paintings Tamás Galambos recomposes these myths, and recreates their figures through colours and forms. He shows us historical and modern 20th century revelations, which are depicted through the work of a modern painter. One should search for the significant signs of Galambos' paintings among these elements. He creates a unique world with biblical stories that he considers with a smile or irony, but at the same time he is nostalgic about the long-gone past."/2. It is the artist's approach that creates order, a compact unity in the multitude of motives taken from the world of history and myth; this is an important feature of Galambos's art. Another typical characteristic of his paintings is the ever-present shifting between reality and tale, reality and fantasy in different (dis)guises. Thus commonplaces turn into something unique, and the non-real becomes evident and acceptable. If it were possible to model the process of artistic creation, the method used by Tamás Galamos could be described as a system of shifts, where the surrealistic veil covering any phenomena of reality can be taken for objective reality. What is more, he uses the well-known symbols, motives and signs out of their original context, and puts them in a new, unusual and surprising perspective; thus the reliable texture of epic is broken and becomes more complex and refined in a new harmony. The human figures that appear in a rich variety in his paintings would bear this feature of the unusual: even the most beautiful female nudes carry the atmosphere of a dummy, not that of real flesh. The Galambos figures look as if they were rigid objects without free will, freedom of activity; they seem to obey hidden orders. The painter himself referred to something similar in a conversation in 2007: "I arrange the scenes on my paintings as a director does in a puppet show. I also have a script, I work with different characters and paint a scenery for them, and of course, dress them in colourful costumes; even a landscape serves as scenery in my paintings. The characters figuring in my painting carry different messages. I create a word similar to the decorative, colourful world of a puppet show. Before I get down to work, the performance is fully planned, ready. So I am not only a painter but a director at the same time."/3.

Ants, mantises and butterflies, lizards, chameleons, the portrait-like visualisation of owls, biblical figures, dictators and solders, circus-people, puppeteers, edifices, over-decorated landscapes, and ethereal beauty depicted on the images of Tamás Galambos all converge into an eerie and ambivalent perception. Their lively radiation attracts and pushes the viewer at the same time. "Lush paradise-gardens are depicted on his canvases where the piercing colours flash upon us." This was written in 1979 by the poet István Lakatos on the Galambos paintings' colour-themes. /4. The artist creates clearly composed, highly minutiae images that are characterised by rich details, great perspectives, or rather conceited angles that may enlarge this minute-world. Great instances of such works are: the stones of the Red Square in Moscow, the elaborate depictions of the Kremlin's bricks and tiles, the surging wave of marching people, and the crowded Heroes Square in Budapest. Great many cars are jammed behind the cross with Jesus Christ in a gas mask, but one can also see the magical landscape that forms an embracing couple from thousands of flowers – the richness of details flows through everything, yet at the same time everything is carefully planned and precisely edited. The unusual changes in the perspective result in fairy-tale like and surrealistic perceptions that do not interfere with the playful harmony of the colours. "It is absolutely obvious that Galambos does not seek Beauty in an easy way", wrote Ferenc Bodri in his essay published in the journal Művészet in 1979. "Galambos' perception of everyday life can be perceived as if he committed himself to banality. Nevertheless, his images radiate beauty, his figures and ambiences catch the eyes of the viewer, and his images possess not only an epic content but some lyrical messages as well. They reveal greater and greater depths as one contemplates over them – just as folksongs do. On the surface they might seem to be simple, nevertheless, their true values lie in the deep."/5.

Just as his great predecessor, Henri Rousseau did many centuries ago, Tamás Galambos also created a dream-like world full of magic. Due to its exceptionally characteristic features, Galambos' artistic world and his pictorial representation is a unique phenomenon in modern Hungarian art. (Nevertheless, the works of György Román, Viola Berki, Líviusz Gyulai, or Arnold Gross also represent important turning points in modern painting.) Working in the last decades of the bygone century and the first decade of the new millennium, Tamás Galambos depicted a world with colourful, radiant and decorative images that should suggest escapism, yet they stand for features so characteristic of our age: insincerity, lies, and pretence. The painter is searching for the quintessence of spheres related to surface and depth, make-belief and reality, and he passionately ventures also into the dichotomy of mixing and interchanging. When approaching these paintings, one cannot help feeling an unexplainable suspicion that the real/fake beauties of the surface hide sobering causes and incentives. Behind the Galambos images' playfully beautiful surface, the viewer has to face jarred and evanescent illusions driven by sinister foreboding, yet with some harmony traceable in them.

Tibor Wehner



Notes:

/1. Géza Perneczky: Tamás Galambos' Exhibition. The Year Book of the Janus Pannonius Museum. Pécs, 1968.
/2. János Tölgyesi: Tamás Galambos' Images. Jelenkor 1968. 5th issue. 446-448. p.
/3. Éva Barta: All the World is a Puppet Theatre. Honest, Relieved Passions. Elite October 2007. 97-100. p.
/4. István Lakatos: Exhibition of Tamás Galambos painter. Debrecen, 1979. Ferenc Kölcsey Culture Centre (Catalogue)
/5. Ferenc Bodri: The "grotesque judge". Notes on Tamás Galambos' paintings. Művészet 1979. 6th issue. 3-5. p.