Natural Studies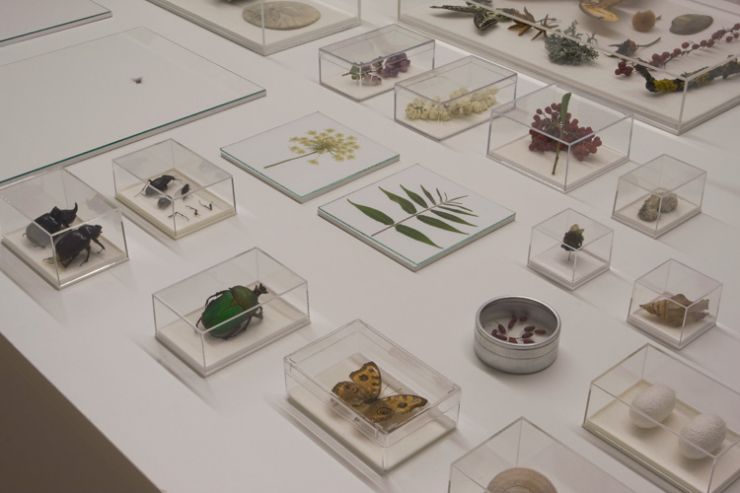 Natural Studies
group exhibition
2014-05-05
Exhibiting artists: Borbála Blahó, Kitti Gosztola, Sári Ember - Sally-Anne Kelly, Gábor Arion Kudász, Alfredo Barsuglia, Péter Rizmayer

on view: 7 – 31 May, 2014
opening night: 6 May, 2014
opening speech by Virág Major

Spring is here, therefore Faur Zsófi Gallery presents an exhibition revolving around themes of nature and flora.

Kitti Gosztola`s Right Tree Right Place series belongs to her ecologically sensitive chain of works. The drawings are reflecting on the practice of truncating trees due to their interference with electrical wires. The frames are made of the same types of trees that are depicted on the drawings - the frame is therefore not only a symbolic tool for marking the borders of the picture but is an integral part of the work. The series draws attention to an invisible, but seemingly crucial practice for the operation of the urban infrastructure, erecting a metaphorical memorial for the pragmatic, though traumatic bruising of the trees.

Urban flora is mostly limited to artificial and controlled zones of nature - to cactus collections, gorgeous heaps of ornamental plants, balcony boxes, tidy front gardens and parks. To tamed and trained surrogates of nature, which primarily serve decorational and recreational purposes. The anthropomorphization of (house)plants, bestowing them with feelings, nicknaming them is at least as absurd, as the total opposition of the personal attitude - to treat the living plants as merely ornaments, as living knickknacks.
The series Decorative Plants of Borbála Blahó points out this slightly paradoxical situation - the plants occur in the most miscellaneous environments: rooms and corricors of flats, offices and institutions. Though, their function is not clear. Besides their beneficial effects on the quality of air, they became parts of our lives because of their decorative nature. We put plants in windows with similar consideration as cloth on the table, a picture on the wall, a cushion on a sofa or a tuya in front of the entrance door. Plants are not only subjects of Borbála Blahó's works, but they are also the medium of them - in this way, marquetry is just like a snake biting his own tail as the material of the works is in fact wood.

For some, nature is a recreational area, a site of leisure activities; for others, it means shelter or refuge. It can be a terrain waiting to be conquered and put under control; an ideal setting for contemplation, the place of secession. A scene experienced as a landscape, as an image, similarly to the English garden that was structured as a living landscape, romanticized by sham ruins, grottoes, little islands, bridges and pavilions.

Ivan Ladislav Galeta says in a video, that 'it is difficult to speak about gardens, because everyone knows what a garden is'. By its dictionary definition, a garden is a precisely delimited terrain serving to cultivate crops and ornamental plants, it is nature regulated (or not) according to the criteria of aesthetic interest and/or effectiveness - although there are plenty sorts of gardens. It can be culturally encrypted (Japanese, English, French, Muslim, Chinese); utopist (community garden, biodome), bird friendly, but mainly human friendly, contemporary and historicizing, it can be a tele-garden or a cherry orchard, it can be a hortus claustralis; it can be a handkerchief sized parcel arbitrarily adopted in a housing estate, might be secret or communitarian, efficient or useless, proper or neglected, bought or inherited.

In his text Own garden, Péter Nádas writes: "After a few decades passing by, a garden becomes a living book of memories". That is to say, the garden, as a living organism, keeps the traces of past care or negligence, and the peculiar logic of its former proprietor – as seen on the sheet from the Memorabilia series of Gábor Arion Kudász. Though later nature slowly finds its way to relent itself of any domination, and regains its awareness.

Naturally, the origo of all gardens is the Garden of Eden or the Paradise, the one country where according to the Old Testament the first human couple, Adam and Eve lived before the Fall. In his installation, Péter Rizmayer is carrying on the themes of his series entitled The Tree of Knowledge executed with similar subtle humour. We can see a screen full of apples, until the fruits are slowly starting to disappear – the visual gag is, in fact, formulating existential questions: it presumes the Fall as a continuously self-repeating process, though its rhythm can only be traced by the careful observant.

The intense, exuberant, festive still lives of Nature Fertile by Sári Ember and Sally Anne-Kelly are built around dreams and fears of their own sex and age, fertility and infertility. The constellations, these personal mini-edens are not assembled of precious materials but of objects of the quotidian, of everyday items, fruits and vegetables. The photographs transmit some kind of an innocent magic as if the works would be illustrations of a heightened, transitional, pure state of being.

The Time Capsule series by Gábor Arion Kudász depict a pine tree shaped relay station near Budapest. The fake-tree is not growing, its leaves are not falling, though the change of seasons still can be recognized on it and its surroundings. The steel tower is supposed to blend into the environment, though as mammoth pines do not exist in Hungary, camouflage misses its aim. While a metal antenna sticking up into the sky would go unnoticed, this pine became a conspicuous landmark completely getting out of line.

The Finds Research Laboratory installation of Alfredo Barsuglia is built up of found objects, plants, insects and drawings. The artist was driven by his curiosity towards the small details, patterns, structures of flora and fauna and their diversity - therefore he seemingly switches his role of the artist for the role of the natural scientist. Though, his special collection, resembling to a curiosity of cabinet is not organized upon scientific disciplines but upon subjective aspects. The drawings are close corelation with the modes of representation of natural encyclopedia, where plants are shown together with their Latin name. But, the texts next to the drawings of the installation have nothing to do with the picture. The text might be related to the site or time, where or when the plant was found.